---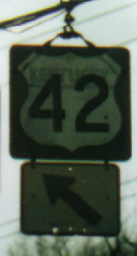 Look carefully at this old US 42 sign, which can be seen if you're westbound in Covington, and you'll see the word "Kentucky" and what appears to be the corners of an old-style cutout shield in the background. Apparently this sign was repainted and reused. There's a similar US 42 sign eastbound at this same intersection. The picture isn't too great because I had to shoot it through my windshield, into the sky, while stopped at a traffic light. There are several "second-generation" non-reflective signs for US 25, US 42 and US 127 in Covington, of which this is one. Photo taken March 1998.
---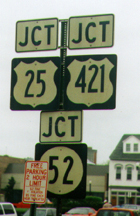 This is one of the few "second-generation" sign assemblies left in Kentucky. It's located in Richmond, on KY 388 (old US 227). The signs are non-reflective, and notice how off-center the numbers are in the US 421 sign. The photo was taken in April 1998.
---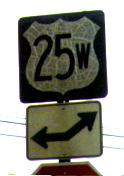 On a related note, here's a "second-generation" US 25W sign in Corbin, Ky., across from the original Kentucky Fried Chicken restaurant operated by Col. Harland Sanders. I think this might have been the original split of US 25 into 25E and 25W, but I'm not positive. New US 25W signs are reflective (Type III) and use the wide rectangular format, rather than the square format this sign uses. The photo was taken in April 1998. The sign has since been replaced.
---
This old "second-generation" US 127 sign is located on Manley-Leestown Road in Franklin County, Ky. The photo was taken in July 1997. One oddity is that the "JCT" sign is a Type III reflective sign, which is peeling and fading. The old non-reflective US 127 sign is fading, too.
---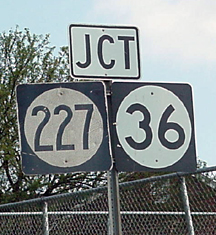 This old KY 227 sign is mounted next to a new KY 36 sign. My guess is that this KY 227 sign is the one erected to replace US 227 signs when that route was decertified in the early 1970s. The difference? The KY 227 sign is an old nonreflective sign; the KY 36 is a Type III reflective sign. The sign is located on KY 978 at New Liberty, Ky. (Owen County), and was photographed in July 1998.
---

What's been done to this sign borders on blasphemy. This is the last remaining old cutout marker that I'm aware of in Kentucky, and its historic value was ruined when someone painted the "To" on it. The sign is located on Bridge Street in Frankfort, and was photographed in February 1999.
---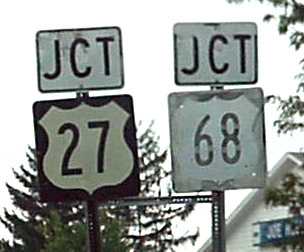 These old, faded, nonreflective signs were located in Lexington on westbound KY 4 (New Circle Road). The photo was taken in summer 2000; the signs have since been replaced.
---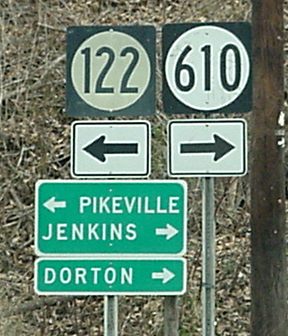 Old KY 122 sign alongside a new reflective KY 610 sign near Virgie. Photo taken spring 2000.
---
Two old KY 840 signs located on US 421 just outside Harlan. Note the stencil marks in the "8" and the "0" on each sign. Photos taken July 2000.
---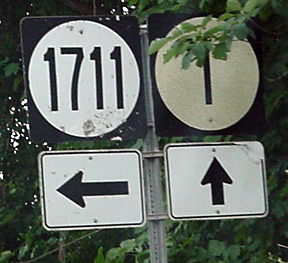 Old KY 1 sign in Greenup County, near Greenbo Lake State Park. Photo taken in 2000.
---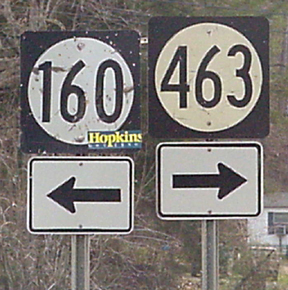 Old KY 463 sign alongside a newer KY 160 sign. Located in Letcher County and photographed in spring 2000.
---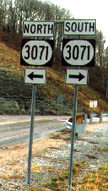 Thes signs, located on KY 3056 in Mason County, were removed in winter 2001 when KY 3071 became a part of US 62/68.
---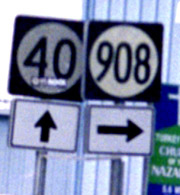 Old KY 40 and KY 908 signs in Inez. Photographed December 1999.
---
These old US 31E signs are located in Louisville. There are several others not shown here. All were photographed in spring 2000 except the one at bottom left, which was photographed in spring 1998.
---
Old US 31E and KY 90 signs in Glasgow. Photos taken spring 2000.
---
Various views of an old KY 89 sign in Jackson County, showing how part of the sign was covered over with old-type sheeting to make room for the "9." The numeral covered was a "0," meaning, of course, that this was a KY 80 sign which was altered for KY 89. Photos taken April 2000.
---
This arrow sign, located on a frontage road near US 431 and the Western Kentucky Parkway, has been recycled. Photo taken spring 2000.
---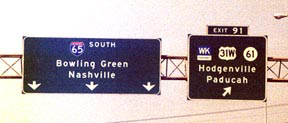 When the name of the Western Kentucky Parkway was officially changed to the Wendell H. Ford Western Kentucky Parkway, this exit sign on I-65 was changed.
---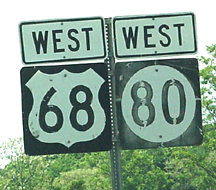 An old nonreflective KY 80 sign, located in Land Between The Lakes, and photographed in spring 2000.
---
Old square, nonreflective, stenciled KY 160 marker located at the foot of Pine Mountain near Cumberland. Photo taken spring 2000.
---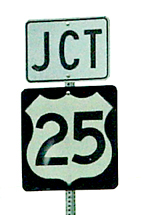 A nonreflective US 25 marker used in a new installation, on KY 229 at London at a rebuilt intersection. Photo taken April 2000.
---
Above and below left, old KY 36 signs along KY 32-36 in Bourbon County. Below right, the back of a recycled sign along KY 32-36 at the same intersection.
---
Old US 27 sign in Lexingtonwhere northbound US 27 joins US 68.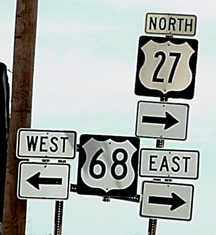 ---
More old signs in Lexington.Left, the intersection of US 25-60-421 (Main Street) and US 27-68(Broadway) as seen from northbound US 25. Right, signage on VineStreet (southbound US 25-421 and eastbound US 60) where the one-waystreets come together.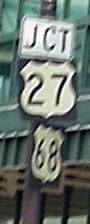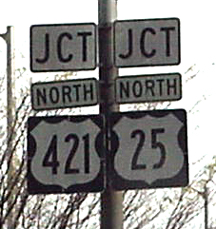 Old Blue Grass Parkway signon New Circle Road.

---
Some old signs where old KY 7used to intersect US 60 in downtown Grayson. The KY 7 sign isenlarged to show the old US route sign blank over which the KY 7 signwas painted.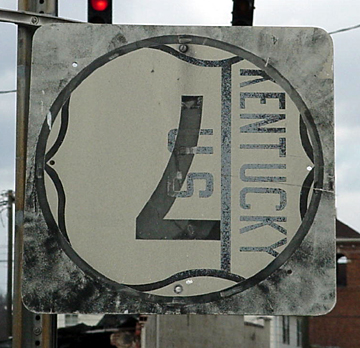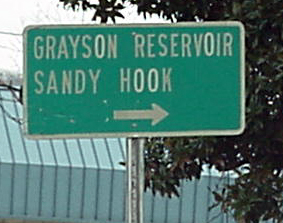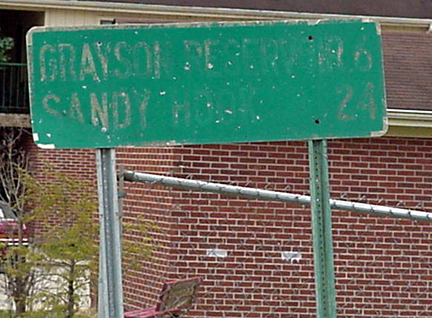 More old signage in Grayson.The arrow under the US 60 marker and the KY 1 marker are old,nonreflective signs.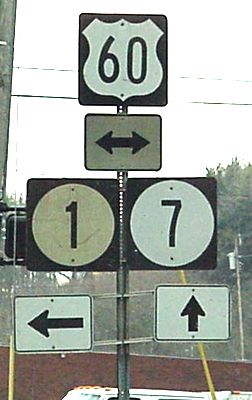 ---
Old mileage sign on KY 19 inBracken County.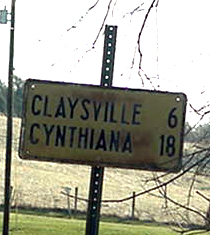 ---
Old US 68 sign inside BlueLicks Battlefield State Park in Robertson County. You can see wherean "8" was stuck over an old number.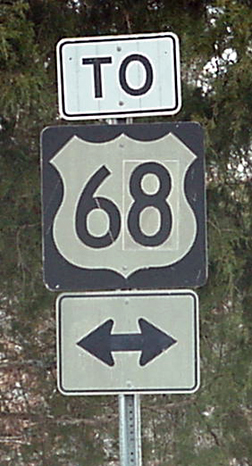 ---
Old US 62 sign in downtownVersailles.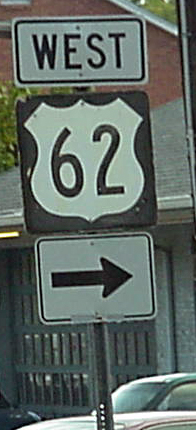 ---
Old KY 1043 sign on US 23 inGreenup County.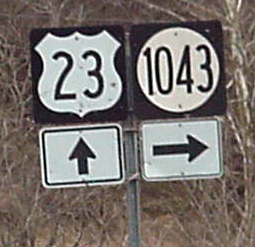 ---
Old "Stop Ahead" sign on KY2, approaching KY 7 in Carter County.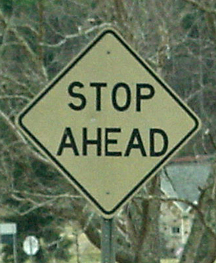 ---
Goback to the Old Signs Page
Goback to the Millennium Highway home page
Copyright© 1998-2002, H.B. Elkins